25

Jun
What is basement UNDERPINNING?
What is basement UNDERPINNING?
Basement underpinning is the process of strengthening and stabilizing the foundation of an existing building or structure. Not only does basement underpinning strengthen your home's existing foundation and structure it also adds extra space and height (basement lowering). In this article the waterproofers at ACCL Waterproofing will go over what underpinning is how it can benefit your home!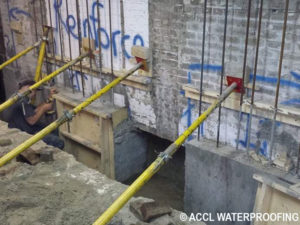 Why Choose to do basement underpinning?
Even if you don't have a desire for extra space in your home, underpinning may be required to preserve the structural integrity. The process of underpinning or lowering a basement is done for several reasons. In this article we have named two reasons – see below:
Older Homes: In many older homes, the basement was never meant to be a living space due low ceilings and exposed ductwork it makes it extremely small with little headroom. Underpinning can help turn your basement into a usable area.
Hidden Mechanics: Underpinning can open the hidden mechanics of your home. Since underpinning is typically done in older homes, there is old plumbing, electrical, and insulation systems that can be inspected, replaced and upgraded to ensure your home is up to date with todays building codes and standards.
How do you know if you need underpinning done?
Underpinning becomes essential when the existing foundation wall starts shifting in a way that its unable to safely support the house. Listed below are the warning signs that you may need foundation underpinning done.
Signs:
Changes in the shape of your walls (bulging, sagging, structural cracks, and sinking).
Differences in the alignment of doors and windows.
Foundation is too weak or cracked.
The structure has changed or shifted.
The properties of the soil supporting the foundation may have changed (possibly through settlement or subsidence) or were mis-characterized during construction or pre-construction design.
The construction of nearby structures requires the excavation of soil supporting existing foundations.
It is more economical, possibly due to land price, to work on the current structure's foundation than to build a new one.
DON'T WAIT – If your foundation is showing structural problems CALL ACCL WATERPROOFING (905) 448-5909 for your free estimate!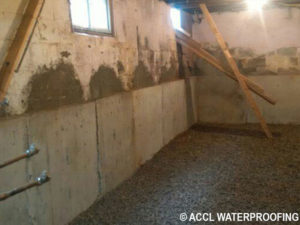 What are the benefits?
By underpinning your basement, you improve your foundation strength, conserve on energy through repaired insulation, and turn your basement into a conferrable living space! Deciding to have basement underpinning done to your home can benefit you if you have structural problems or are looking to increase the height and space of your basement to make it usable. Ultimately underpinning increases the value of your home as it adds height and square footage to your basement.
Get the job done RIGHT – Hire a professional Waterproofing company!
Want to know more about Basement lowering and underpinning? Give us a call at 905-448-5909
Click here to find out why you shouldn't waterproof without professionals
Rely On our ACCL Wet Basement Waterproofing Experts
If you need a basement underpinning renovation to increase the height and square footage of your home, or if your foundation is showing structural problems. CALL 905-448-5904 or CLICK HERE to visit our contact page.
The basement waterproofing specialists at ACCL Waterproofing know how to repair your basement and foundation walls and keep moisture out of your basement. We would be pleased to develop a guaranteed solution to keep your basement dry!
Foundation Cracks? – How crack injections work
The Difference Between Urethane And Polyurethane Crack Injections
DOES YOUR BASEMENT NEED WINDOW WELLS?
Picking the right sump pump for you home/investment
Waterproofing Ontario properties and real estate
Questions to ask your waterproofing contractor