19

Apr
Wet Basement – What Do I Need to Do?
There are many different problems that homeowners will run into with their home.  Some of those problems can often be quite serious and require more attention than others.  If you or someone else notices that you always have a wet basement than there is definitely something wrong.
In order to fix the problem of a wet basement, there are several steps you should consider.  It is important to do these things the right way or the problem will continue to exist.
Assessing Your Wet Basement
Find the source of the water
Check for leaky pipes, hoses and other things connected to water sources.
Water could be coming from pipes behind the walls (a more serious problem that requires professional help)
Water could be coming into your home from the outside.

Check that water is draining away from your home.  If this is not the case then you have a serious issue.
Most home foundations are made with concrete.  Concrete is a porous material and water draining towards your house will erode it.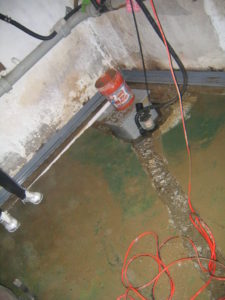 Consider these solutions
Leaky Pipe: Have a plumber come and replace the pipes
Washing Machine: Replace or repair the appliance
Outside Foundation: Call a waterproofing crew to make sure water drains away from your home
Remediate any damage that has occurred
Mop up any water so no mold can form
Dry or replace any material that is wet when you assess structural damage
Water in a basement is not something you as a homeowner should ignore.  It is a sign of a possibly much LARGER problem.  It would be a good idea for a homeowner that has a wet basement to take the necessary steps to fix the problem.
ACCL Waterproofing has the materials and expertise you need to do the job right.