What Is Parging?

Basement parging is the coating applied to the visible above-grade portion of your home's foundation walls. Often parging is seen as an added decoration that completes the look of a home's exterior or interior by hiding surface imperfections and marks. However, most homeowners tend to misunderstand what parging is and why it is important for keeping your interior dry.
Parging uses a masonry-based mortar to cover exterior and interior masonry stone and block walls. By doing parging on your home it helps protect masonry and foundation from weather elements such as rain and snow and of course makes your house look better than non-finished walls.
Is Parging the Same as Waterproofing?
It is not the same as waterproofing but it does contribute to keeping water from getting into your house. Parging can be used on basically any vertical surface but it is most commonly seen on above grade foundation walls on the exterior, and on interior basement walls. A parge coat makes a water-resistant barrier, and if the jobs done right it can help keep your house dry.

If a parge coat is not applied correctly, water can become trapped between the parge coat and the wall making the problem you were having much worse or equal to what it was before. Badly done parging contributes to moisture damage and can cause a type of deterioration of concrete known as spalling.
Is Parging Required for All Waterproofing Jobs?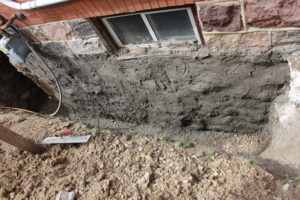 A parge coat is not a requirement under the building code, but as stated above it does have a useful purpose acting as a barrier against inclement weather. Parging is a complete must for foundation walls with exterior insulation, or other rigid materials such as stone and brickwork in order to protect the insulation from impacts.
How to ensure your home gets the parging job done right!
A good parging coat starts with a good parging mix. . At Accl Waterproofing we highly recommend hiring a professional to get the job done right
Don't Drown in a wet basement!
Rely On Wet Basement Waterproofing Experts in Toronto
If you've noticed foundation cracks, spots, water, mold, and mildew, don't ignore the signs or it could lead to more damage and possible health effects.
The basement waterproofing specialists at ACCL Waterproofing know how to repair your basement and foundation walls and keep moisture out of your basement. We would be pleased to develop a guaranteed solution to keep your basement dry!
April Showers bring may flowers! – Or Wet Basements?
Ensuring your basement is ready this thaw season
Waterproofing Ontario properties and real estate
Questions to ask your waterproofing contractor
New home buyer ? – How to tell if your buying a home with mold