11

Jun
How do crack injections work? – 6 steps
How do crack injections work? – 6 steps
Cracks in your foundation can occur when your property or buildings begin to age, settle and the foundation shifts, causing water seepage and basement floods. If you are a homeowner or rent a property than you know that seeing or noticing cracks on the inside and outside of the property's foundation or any signs of leakage coming from the cracks during rainstorms and snow melts can be a sign that a crack injection is needed. In this article the waterproofers from ACCL Waterproofing will go over the 6 steps we take to preform a foundation crack injection.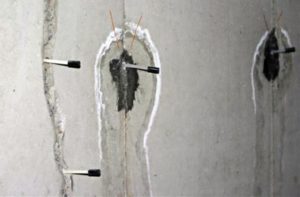 Why you should repair foundation cracks?
Repairing cracks is of the utmost importance. If a crack leaks once, then more than likely it will leak again and again after every rainfall. Crack injections will save you time, money, prevent mold and mildew problems, along with help you avoid headaches caused from dealing with a leaky wet basement. If you ignore the signs and symptoms of water leaks in your home, it will only cause costly repairs and more damage to your property.
How does crack injections work?
At ACCL Waterproofing we only use the best procedure. By applying a Polyurethane crack injection. Polyurethane crack injections are highly popular today because of their flexibility and durability. This injection works instantly once injected into the crack cavity by expanding and filling the crack completely. The great thing about polyurethane crack injections is even if your foundation begins to shift the polyurethane remains flexible ensuring there is no future water leakages.
Working from inside your basement is the best way to repair a concrete foundation crack. Holes are drilled along the crack through the soil and the polyurethane sealer is then injected. Unlike other surface repairs, the injected polymers are not weakened due to weather, traffic, or ultraviolet rays.
Most importantly, polyurethane injections will prevent expensive repairs and future obstructions.
So how is it done – 6 steps?
Wash and brush cracks on walls to remove all loose particles.
Install injection/surface ports.
Apply Polyurethane via injection into cracks.
Leave to dry 24-48 hours.
Remove the ports.
Clean surface area.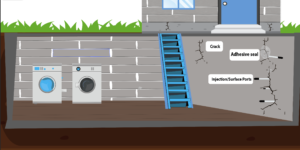 Demonstration of what the process might look like
Get the job done RIGHT – Hire a professional Waterproofing company!
Want to know more about our crack injection process? Give us a call at 905-448-5909
Click here to find out why you shouldn't waterproof without professionals
Rely On our ACCL Wet Basement Waterproofing Experts
If you've noticed foundation cracks, spots, water, mold, and mildew, don't ignore the signs or it could lead to more damage and possible health effects.
The basement waterproofing specialists at ACCL Waterproofing know how to repair your basement and foundation walls and keep moisture out of your basement. We would be pleased to develop a guaranteed solution to keep your basement dry!
The Difference Between Urethane And Polyurethane Crack Injections
DOES YOUR BASEMENT NEED WINDOW WELLS?
Picking the right sump pump for you home/investment
Waterproofing Ontario properties and real estate
Questions to ask your waterproofing contractor
Sneak peak of our June promotions !