15

May
DOES YOUR BASEMENT NEED WINDOW WELLS?
DOES YOUR BASEMENT NEED WINDOW WELLS?
Did you know without protection your basement windows could be one of the reasons your basement is flooding? At ACCL Waterproofing we know that window wells may not be the most appealing look you may want outside your home, but they can be a key part in protecting your basement from water infiltration. If you want to learn more about basement window wells and how your basement windows could benefit from them then you came to the right article!
What is a window well?  
Window wells are semi-circular corrugated steel or plastic "wall" structures. They are positioned outside basement windows and allow for light, and fresh air to enter. The well prevents soil, debris, rain, and moisture from reaching and entering the basement window. They are usually a few feet or a meter deep and are filled with a small layer of gravel to drain the well. Window wells are both practical and decorative and, require minimal upkeep.
Fun Fact:
Some window wells also allow you to climb out the basement window in an emergency.
Should your basement have a window well?
Depending on the design and construction of your basement will determine if it should have a window well or not. In fact, some basements are not meant to have window wells. Windows with a base at or below ground level require window wells "daylight" basements have floors that are flush with the earth and don't require wells. These often have doored entryways or windows that sit high enough off the ground to be safe from groundwater or contact with dirt.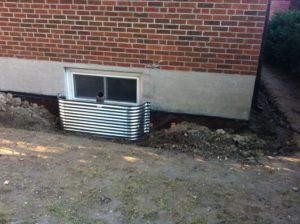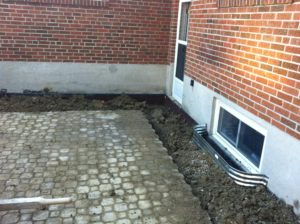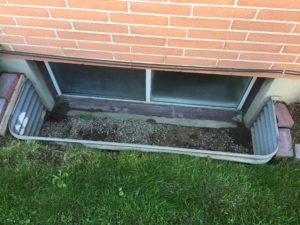 Don't Drown in a wet basement!
Rely On Wet Basement Waterproofing Experts in Toronto
If you've noticed foundation cracks, spots, water, mold, and mildew, don't ignore the signs or it could lead to more damage and possible health effects.
The basement waterproofing specialists at ACCL Waterproofing know how to repair your basement and foundation walls and keep moisture out of your basement. We would be pleased to develop a guaranteed solution to keep your basement dry!
April Showers bring may flowers! – Or Wet Basements?
Ensuring your basement is ready this thaw season
Waterproofing Ontario properties and real estate
Questions to ask your waterproofing contractor
New home buyer ? – How to tell if your buying a home with mold 
[action full_width='yes' content_in_grid='yes' type='simple' icon=" icon_size='fa-lg' icon_color=" custom_icon=" background_color=" border_color=" show_button='yes' button_text='Contact us today for all your waterproofing needs!' button_link='http://acclwaterproofing.ca/contact-us/' button_target=" button_text_color=" button_hover_text_color=" button_background_color=" button_hover_background_color=" button_border_color=" button_hover_border_color="]
[/action]