20

Sep
Autumn Maintenance | Ensuring a leak free basement this spring
Autumn Maintenance | Ensuring a leak free basement this spring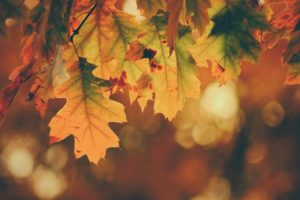 Autumn also known as the fall season is less then a week away! With this is mind, if your like most homeowners your probably concerned about a wet leaky basement. Not only do all the trees start loosing their leaves but the weather also tends to bring us fall wet rainy storms. As you may know storms lead to wet leaky basements and just because its raining outside, doesn't mean it has to be wet in your basement. Autumn is also a reminder of the cold wet winter season that will soon be creeping in. Once winter arrives and the snow thaws/spring melts begin to happen you're basement will be at risk. ACCL Waterproofing has written this article to go over the top 4 autumn maintenance steps to ensure a leak free basement.
Autumn Is Here: Is Your Basement Prepared?
According to global news, Oshawa and Toronto Ontario are expected to have a milder winter, which means frequent cycles of freezing and thawing – leading to wet basement leaks. As you may know a wet leaky basement can damage belongings, create mould and mildew, and cost a lot in repairs. Let's face it no one likes dealing with issues involving their basement, attic, or foundation. The following home maintenance steps can make a big difference when it comes to getting your home ready for snow and wintery/spring conditions ahead.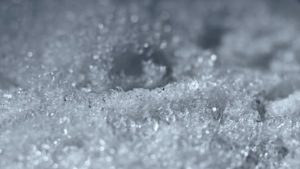 Autumn Maintenance Tips That Will Ensure A Dry Basement Next Spring:
1. Cleaning Gutters and downspouts:
Eavestroughs (gutters) and downspouts function by directing rain water and melting snow off the roof into areas away from the homes foundation. Its critical to ensure your eavestroughs are cleaned out before the winter months arrive. Overtime excessive build of leaves and debris can cause your gutters and downspouts to become clogged. If this happens, water can leak causing pooling around the foundation of the homes foundation. Which will lead to a wet basement. When you have clean eavestroughs it will enable water to drain property during fall rain storms, winter, and spring thaws. Overall Autumn is a very important time to check your gutters!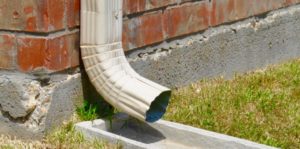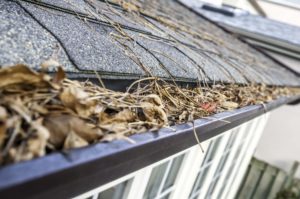 2. Checking Basement Windows and Window Wells:
Basement windows are typically below ground surface making it easier for water to seep into. Before the winter begins its important to ensure your windows and window wells are in top shape to avoid future problems. Taking the time to inspect windows and window wells for cracks, broken pieces, rotting and cracked caulking or a clogged window well will help ensure a dry basement. If you have a clog in your window well or you think theres other faults involved – Contact your wet basement specialists at ACCL Waterproofing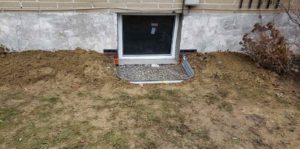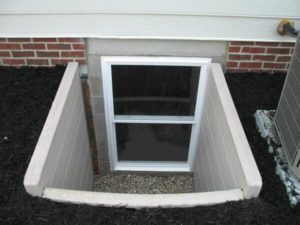 3. Checking the grading and slope of home:
If the grading around your foundation is ineffective it will cause the rain or groundwater to make its way into your basement. If the ground slopes inwards or even if its levelled, it could be directing rainwater back towards your home. Remember the grade around your foundation should slope away from the house, not towards it. Usually property slope and grading problems are more common among older homes as the soil shifts and resettles over time. If you think you have property slope or grading problem, you need to have this inspected by a professional as soon as possible.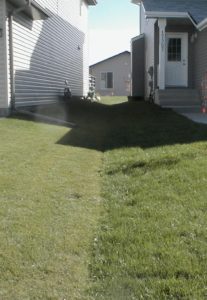 4.Testing sump pumps:
If you have a sump pump in your basement (which you probably should), you need to test it regularly. First, check to make sure that it's working. Where your outlet is, you should see two plugs. Unplug both, and then plug in the one just for your pump. If it doesn't turn on right away, it is not working right. If it does work, make sure to plug back in the other plug to make sure that your sump pump is ready to go. Next, pour water into your sump pump. This will show you in real time if it's going to work. Remember a sump pump is made to ensure your basement is kept dry in case water leaks into it. There are various different of sump pumps to choose from – Click Here for more information.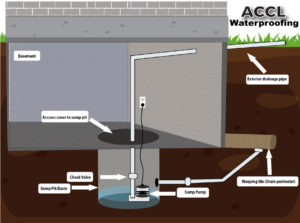 Are you tired of dealing with a wet basement, flooding, or leaks every time it rains? Basement waterproofing can help put an end to water in your basement. The above fall maintenance tips should help stop or at least lessen the amount of water getting into your basement. You may think that since winter season is arriving and there wont be much rain that your basement will be free of obstructions. Unfortunately once the snow melts and the winter/spring thaws begin all the same issues you were having before will reappear and could be worse!
If you do nothing to prevent a wet leaky basement from happening the outcome could be:
Water damages
Clogged drains
Mold and mildew
Warped floorboards
Contaminated drinking water
Diseases
Structure displacements
Get the job done RIGHT – Hire a professional Waterproofing company!
Rely On our ACCL Wet Basement Waterproofing Experts
If you need a basement underpinning renovation to increase the height and square footage of your home, or if your foundation is showing structural problems. CALL 905-448-5904 or CLICK HERE to visit our contact page.
The basement waterproofing specialists at ACCL Waterproofing know how to repair your basement and foundation walls and keep moisture out of your basement. We would be pleased to develop a guaranteed solution to keep your basement dry!
RED FLAGS – Sump pump failure – How do you know?
Wet Basement? – 4 Common Ways Water Can Get Into Your Home
Why Choose Basement UNDERPINNING ?
Foundation Cracks? – How crack injections work
DOES YOUR BASEMENT NEED WINDOW WELLS?
Waterproofing Ontario properties and real estate